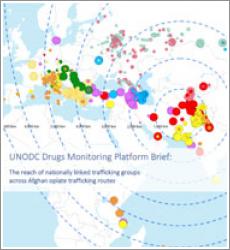 This brief examines additional dimensions of seizure event data producing knowledge that can support law enforcement, other operational activities and policymakers.
This brief builds on earlier efforts of the UNODC Drugs Monitoring Platform by exploring new uses of seizure data, which include analysis of trafficking groups using country of nationality of traffickers arrested in Afghan opiate-related seizure events.
This analysis is based on select countries situated along the southern route in East and South-East Africa and the Balkan, Caucasus and northern routes with the specific intention of reflecting the platform's attributes by focusing on trafficking in opiates from Afghanistan as it makes its way to developed and emerging markets. The analysis contained herein is based on a continually updated set of individual drug seizure data captured by the Drugs Monitoring Platform. The Drugs Monitoring Platform and its analytical outputs aim to provide knowledge based on a constantly evolving and expanding dataset, bearing in mind several data caveats (see Scope and limitations of the data used in the analysis).